FW06 Trend: Ankle Boots
This season they amp-ed up the classic ankle boots usually worn under jeans (for me anyway) to a fashion must have designed to be seen!
On the Stella McCartney runway (left), she cut out the front to form cute half heels/half boots worn with stockings. And on the Versace runway (right), they cleverly cut out a bit on the side to reveal footless stockings!

Other more innovative designs out there include these Alexander McQueen (left) kick back ankle boots, which I think has a weird slanted heel (is that physically safe?) and these funky Report Signature (right) ankle boots from Shop Intuition.

My favourite ones are these two from Miu Miu (left) and Paul and Joe (right). I love the perfectly rounded toes and the adorable designs. I want them both!
Then there are these darling soft grey slouchy boots from Urban Outfitters (left) and green pointy boots with a v from Roberto Cavalli (right).

I also like these ankle boots with what looks like scoop necks. It makes them look so chic! I especially like the design of the Steve Madden one (right), it looks so elegant! (left: Nine West)

For something less adventurous, more versatile but still trendy, try these more subtle styles from Christian Louboutin (left) and Shop Intuition (right). They can be both worn to be seen or under jeans.

And of course there are the platform ankle boots which are absolutely everywhere. These ones are from Pedro Garcia (left) and Steve Madden (right).
As I said, these boots were made to be seen. Here are some ideas as to how:
With short sweater dresses/short winter shorts and tights- this one is my favourite way. (left)

With skinny jeans- I do that a lot with my classic ankle boots too (right)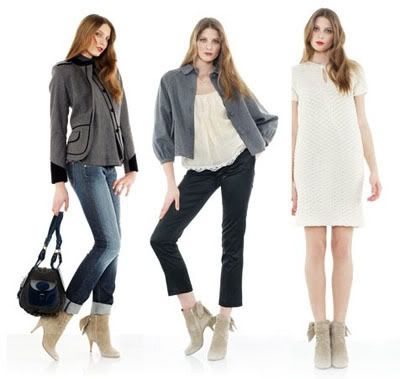 With tight rolled up jeans- this is probably best if you were tall (left)

With cropped pants (center)

And just right out with a skirt or shorts!
I can't wait to go home to my funky ankle boots and try all this out!