BG Shop's Intuition!
So as a treat for myself I decided to do some virtual shopping over at
Intuition
, and here is what I would get if money was no object.
This fabulous looking leather cropped jacket from Mike and Chris. I've been wanting a cropped jacket and a leather jacket lately. This one has both. It looks so cool. For something more classic, there is this hoody pinstriped blazer from True Religion, which I think would be great for looking smart in a sec.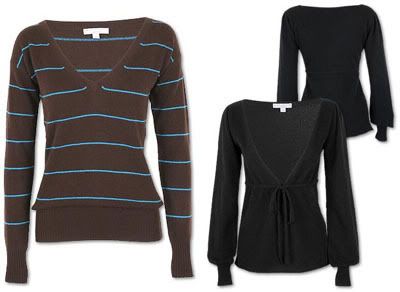 Then there is this awesome striped boyfriend sweater from Cristi Conaway. The stripes are cool yet somewhat different from all those one sees on the streets lately. This black sweater here (right) is plain (so it matches everything) with just the right amount of feminine deatils to make it interesting.
The perfect winter shorts. Here we have Charlotte Ronson short shorts and tweed gaucho shorts. I think they are both at the perfect most flattering length.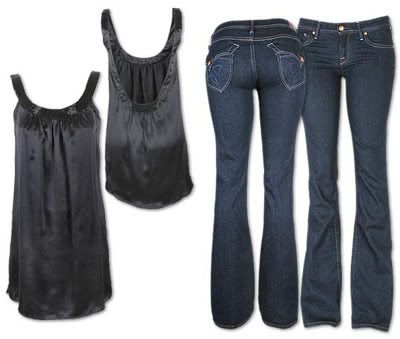 For the night, I am lusting after this sexy Yumi Kim scoop back shirt. And I just LOVE the back pocket of Brown Label jeans, they look interesting yet flattering. Unlike the True Religion ones which in my opinion just makes the butt look big.
I know these are the same style, but the beige one with the floral trim is great for the day and the black one is just polished enough for the night. I'd like them both please!
For evening wear, I am still crazy about silk dresses. I think these two grey/silvery ones are gorgeous for a winter's night out. Matches the snow, you know? LOL.
To hats, I rather like these knit berets, because they remind me of the ones Melrose was wearing in ANTM. Even though they said it was trying too hard, I thought they looked cute. And this beanie here is just classic.
I am a sucker for hoops. I am loving these double hoops and tear drop hoops. Oh and this Love Letter Ring is just soo adorable. You can get it personalised with your special someone's alphabet on it!

Other random things I like are these O Deer! patent black slingbacks, this Mike & Chris wide belt and this adorable looking Devon travel case.
Aren't these all just oh-sp-tempting? In case you'd like to do some actual shopping at Intuition, right now you can get 20% off your purchase by entering the code "FASHIONISTA." Oh and they're even offering free gift wrap with every order- perfect for the holidays *hint*hint*!