Devon Aoki
So this weekend I finally gave into everyone's raving and the constant advertising and went to see

Sin City

, to see for myself just how "cool" and gory it was. The mostly black and white movie with the occasional color used to emphasize and represent things- like the yellow monster in the last scene that is supposed to represent the stench of that person- was definitely very cool and very artsy indeed. O and gory. Yes, all that people eating and body part ripping is all very gory. But the person that caught my eye in this movie was

Devon Aoki

, who played

Miho

, the deadly silent killing machine of Old Town.


She had no speaking part in this movie at all, but her role as the protector and killing machine of Old Town was defintely very cool. And the awesome-ness of her very slick kick-ass moves rivalled those of Lucy Liu's in Kill Bill (which might be because of Quentin Tarantino who is the honorary director in this movie).


Devon Aoki also starred in many other movies including

2 Fast 2 Furious

, DEB's and Death of a Dynasty.
But with such distinct and unique looks she is of course no ordinary actress. This 23-year-old japanese/German/English American is in fact a model, having done the catwalk for Versace, Chanel, Ungaro, Baby Phat, Blumarine, Fendi, Paco Rabanne and Loewe.
But you may recognize her as the face of

Chanel

in 1997. . .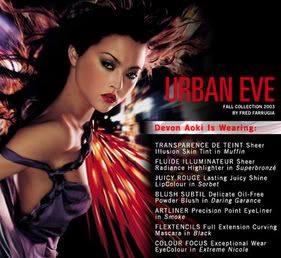 . . Or more recently as the face of

Lancome

. She was also very popular in Asia and Europe, appearing on the cover of the Japanese and the Deutsch Vogue and ads in Asian brands like Max Factor.


The other notable character in Sin City was

Alexis Bledel

, as

Becky

, who unlike her role as Rory in Gilmore Girls, played a traitor to Old Town and was eventually killed in the end. I especially liked the fact that they emphasized her large blue eyes making her appear very innocent.