Short Trends Spring/Summer 2005
By shorts, I mean pants that run above the knee-just to be clear you know. Terms nowadays are SO confusing. Back on the topic of shorts, the era of super tight short shorts are over
(thank god)
, being replaced by well

tailored

,

ladylike

,

loose bermuda

shorts

! And just in case you were wondering, the official definition of bermuda shorts according to dictionary.com is:
Short pants that end slightly above the knee. Also known as Jamaica shorts.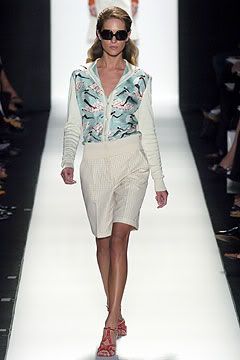 As you can see,
well tailored and loosely fitted
bermuda shorts are very prominent on the catwalk this season, featuring in the

Zac Posen

and

Carolina Herrera

show. Note how both are matched in a very ladylike manner with a

tucked in blouse

. And yes,

white is very hot

this season. So hot that simply looking at certain catwalk photos are blinding (check out Ralph Lauren Spring/Summer 05).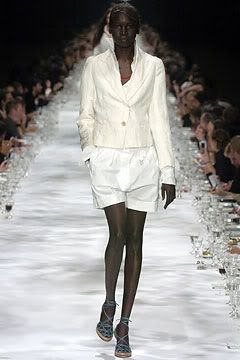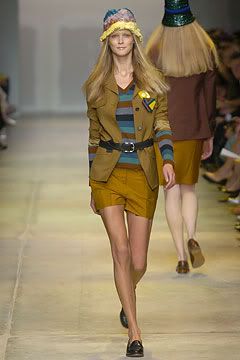 For those of yor who want to go short, go short the

Dries Van Noten

/

Prada

way. Never super short and stylishly cut to loosely fit. And add a ladylike touch to them with stylishly cut blazers!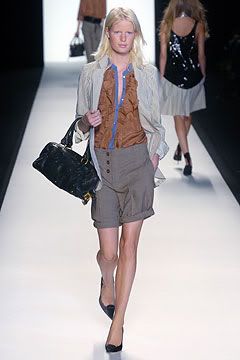 And take shorts to the next season with these dark and unique creations from

Diane von Furstenberg

and

Chloe

. I love these from DvF, I love the color, the cutting and the way they matched it- with a distinctly safari flair. And no wonder really, Bermuda

is

a group of islands off in the Atlantic! And these Chloe ones, with rolled up hem and the row of three button lends it a sophistication that makes it perfect for the fashionable office look. And their dark colors makes them much more resistant to the change of season, unlike the very light colored and distinctly summery shorts shown above.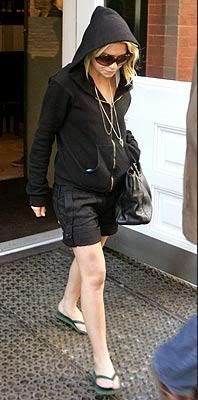 And off the catwalk these tailored, loosely fitted and very detailed shorts go on

Ashley Olsen.

Love how she mixes it with such casual hoodie and flip flops (well. . maybe not those flip flops. . not that color anyway).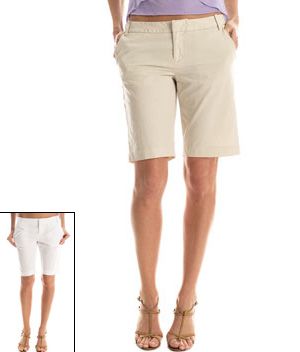 For the classical bermuda shorts, I am loving this ones from

Armani Exchange

.

For more of a twist, try these blue striped ones from

American Eagle

. Blue stripes are all the thing this season after all.

I used to have this idea that shorts looked really trashy and all (back in the short shorts days) so I only wore them for gym class. But I love the short trends this season, its just soo ladylike and stylish! Match them up with sandals, heels, flats and flip flops and your ready to go! And maybe sneakers if you are going for the shorter ones and have real long legs. Must go shopping!