Costume Institute Gala Fashion 2005
The

Costume Institute Gala

is THE

party of the year

in the fashion world. It took place this monday evening at the Metropolitan Museum of Art . The theme this year is none other than the

House of Chanel

. Co-hosted by Anna Wintour, Karl Lagerfeld and Nicole Kidman, the event was attending by the cream of the fashion, designer and hollywood world. Naturally the

fashion

was completely amazing.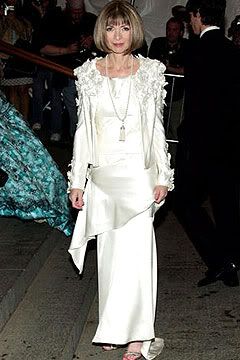 A party is nothing if it has not been given the stamp of approval by

Anna Wintour

's

fleeting 10 minute appearance at the peak of it. This time, not only did Anna Wintour appear and co hosted it, but she actually turned up 10 minutes

early

! And looked absolutely stunning too in this white Chanel couture gown.


The other co host,

Nicole Kidman

, very glamly represented the Hollywood crowd in this very sleek and elegant blue dress also by Chanel of course. Some of my other favourite dresses include. . .

This artistically tailored black dress on

Plum Sykes

, one of Harrods girl and mine's favourite author of

Bergdorf Blondes

(simply a MUST read) and fashion journalist.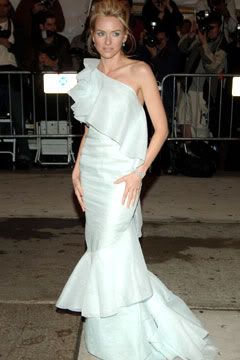 I also LOVE this very stylishly white dress on

Naomi Watts

, by

Calvin Klein

. She simply looks amazing and elegant in it!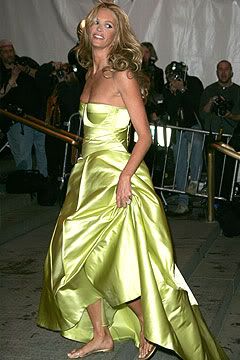 Calvin Klein must be on the roll, because this green gown also by

Calvin Klein

also looks very stunning and flirtatious on

Ella Macpherson

. I think its especially smart and cute that she has paired it with those oh-so-casual and comfortable flip flops.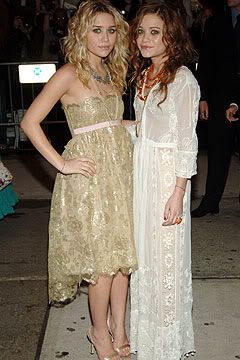 And we must not forget Harrods Girl's favourite, Mary Kate and Ashley Olsen's outfit! Personally I like Ashley's gold lace dress by

Oscar de la Renta

more. It just looks very elegant and more suited for the event. Although, Mary Kate's vintage dress from

What comes around goes around

, defintely reflects her signature boho luxe look. Other notables include. . .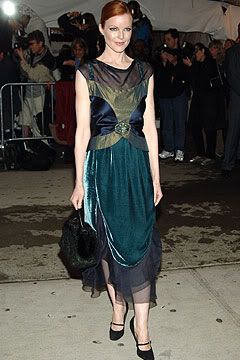 Marcia Cross (or Brie as I like to think of her) in this very elegant and well, very Brie, dress from

Louis Vuitton

.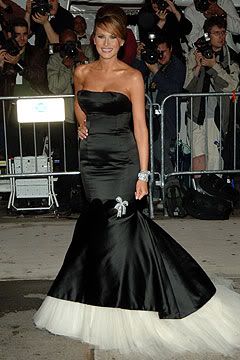 Melania Trump

, in a fishtail dress by

Alexander Macqueen

. Apparently she also risked complete exposure while getting out the car in this dress-luckily for her, her husband acted as a human screen while she pulled the dress back up. YIKES!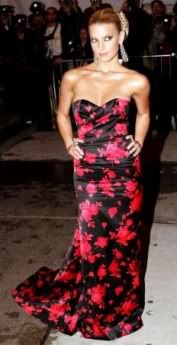 Jessica Simpson

, in a red and black gown by

Michael Kors

(also her date for the event).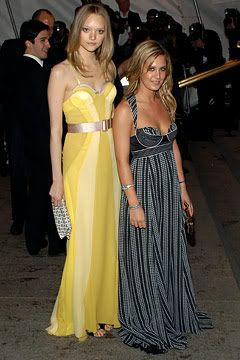 Gemma Ward

(Harrod girl's favourite model) and

Victoria Traina

, both looking like Greece goddess' in
Proenza Schouler

.

And the list of notables just goes on and on and on from Selma Blair's Chanel couture to Karolina Kurkova white Viktor Rolfe dress and on and on. . . . . there is just not enough time and space here to give each gorgeous outfit the attention and credit it deserves! So go check them out yourself here and report back! I am sure to have missed some amazing gowns!