Armani Exchange Tops
This weekend on yet another shopping trip downtown (I really must stop and find some other things to do in weekends) I found the perfect top. And it was on sale too!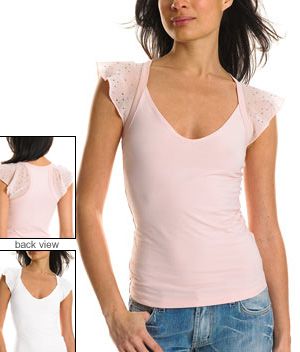 Is this A/X rhinestoned flutter sleeved tee not just perfect? Mine is in white (but pink looks better on screen). The thing I LOVE most about this purchase is that it is plain but still has an unique feminine touch-making it the perfect top to matched with that super colorful skirt you have no idea what to wear with that won't take away from the skirt. The fluttering rhinestone adds a more formal and dressed up quality to your look too. AND it can be worn by itself with jeans. I can go on all day about this top. But the point is, this is the perfect top.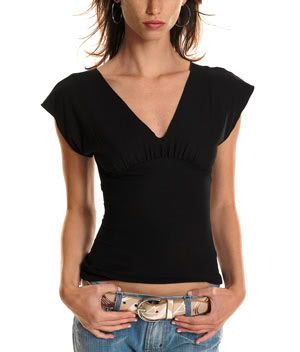 Another thing that caught my eye from A/X is this again very unique and very well cut v neck top. This also has the potential to become the perfect top, capable of being dressed up and down.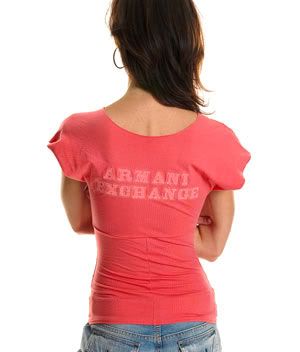 The only downside to this is the huge Armani Exchange Logo emblazoned boldly on the back. Talk about ruining a good shirt. I mean, I love A/X (their clothes are so well cut and unique), but I don't need their logo to be emblazoned behind my back (or anywhere) so boldly like that for the world to know. Oh and it has also been pointed out to me that this shirt will only look good on people with super skinny waist like this model here.
Not that I'm against flashing the brand once in a while. When done tastefully- like the A/X top above with this logo done in a very cool and subtle cursive form- it can look very chic.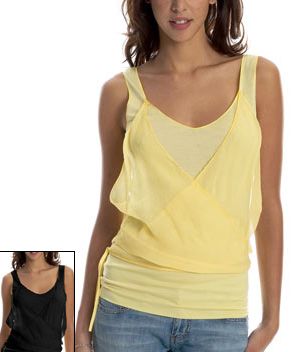 For good measures, I'll even throw in this yellow chiffon wrap short sleeved shirt that I like. Are these Armani Exchange tops not the most versatile and unique tops around? AND they're well cut and reasonably priced too!