CK Obsession: Then and Now
Calvin Klein ads have always been highly controversial. It was CK ads afterall that made Kate Moss famous in the first place, and become the supermodel whom she is today. One of Kate Moss's most famous and controversial ads is the campaign for the CK fragrance, Obsession. This is one of her less, err, revealing images:
Honestly, I don't particularly understand why CK feels that a male fragrance should be modelled by a female, but I digress. If you were alive and have flicked through magazines, or even walk by huge billboards in the city in the early to mid-ninties, there is no way that you could have not seen the Kate Moss campaign for Obsession. (You might just not have realised it was her.)
So here we are, now in the mid-2000s, and CK decides to launch a new campaign for Obsession. Only this time, it is suprisingly not modelled by Natalia Vodianova (CK's exclusive model,) and is modelled by the usually innocent face, Gemma Ward.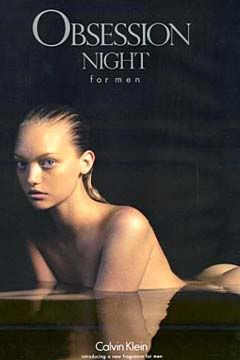 This ad will be seen in all magazines starting this month, and there will probably more to come. This image so far, seems innocent enough, but I do wonder whether the other CK photographs of Gemma Ward is going to be as controversial as the ones Kate Moss did a decade ago. This is Calvin Klein we're talking about here afterall.